Hair Thinning Affects An Estimated 75% Of All Men And 10% Of Healthy Women.
Think about how many times a day we check our hair in a mirror or the reflection in a window as we pass by. How many times do we touch it or for that matter, think about it throughout the day?
Are you losing your hair? How can you know for sure?
Now it's easy to determine if you are suffering the early stages of hair loss and make an informed decision about what the best course of action may be for your individual situation.
With our exclusive Hair Check program, it is easy, painless and only takes 15 minutes to get an accurate measure of thinning hair. It immediately tells you if hair loss is occuring, even if you cannot see any signs of hair loss with your naked eye.
Don't wait until you can see signs of hair loss. Protect your self image by identifying hair loss before it becomes an embarrassing problem with our exclusive Hair Check examination program.
haircheck lets you "see" hair loss before it shows
The new patented HairCheck technology (published in a leading medical journal and textbook of Hair Restoration Surgery) gives a precise scientific measurement of "how much hair" is present in an area of scalp. It measures both the hair density and hair diameter within that area.
But that's just the beginning. Hair loss treatment is rarely suggested until the hair is visibly thinner, but by that time as much as 50 percent of the hair in those areas is already gone, never to return.
With Hair Check, on the very first visit, you will be able to accurately measure how much hair has been lost in the affected area of loss… perhaps years before balding becomes obvious to the naked eye.
Special Introductory Offer!!
We are offering the complete Hair Check service along with educational consultation and digital scope imaging.
Also, for a limited time, DHT blocking gentle cleansing shampoo is included.
Limited time only $159. Space is limited.
You Don't Have to Accept Your Hair Loss.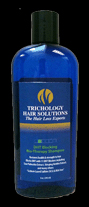 LIVE LIFE ON YOUR OWN TERMS. Now it's easier than ever to get expert advice and answers to your particular hair loss questions and concerns. Our caring, confidential approach to hair loss treatment provides clients with the ability to make a fully informed decision on which hair loss treatment options are best for their particular type of hair loss and lifestyle.
At Trichological Associates in Alexandria, Virginia (Washington, DC), we specialize in hair loss restoration and prevention for both men and women. Our revolutionary Revage Laser Hair Therapy treatment programs involve no surgery, no drugs, with absolutely no side effects.
If you are experiencing the devastating effects of hair loss and would like to learn about the latest treatment options that are available to you, please call us at (703) 914-4247 today.