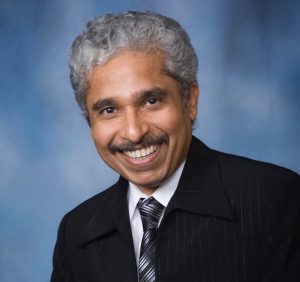 Why The Hair Loss Clinic?
Hair loss is a common and absolutely natural process. Losing a few strands of hair daily is normal. However, sometimes this normal hair loss can turn into an absolute nightmare when one starts shedding hair constantly.  What can be done then? Is there a viable and safe solution to this hair loss problem? 
Everyone desires soft, luscious hair. But what happens when you start noticing hair loss? and not just a little/routine hair loss but a significant amount of hair loss? How do you restore and regrow your beautiful hair without surgery or any invasive procedure? 
At The Hair Loss Clinic we have the right solution to help you on your journey of hair loss to hair growth – Low Level Laser Therapy (LLLT). LLLT is a pain-free and safe method performed by our Board Certified Plastic Surgeon Dr Balvant Arora to restore those luscious and healthy-looking locks.
What Is Low Level Laser Therapy?
Low Level Laser Therapy (LLLT) is a new and innovative way to help in hair growth. It is a stimulation therapy often also referred to as red light therapy or cold laser therapy. 
A Laser Helmet is placed on top of a patient's head for LLLT.  The device emits red light with a wavelength of 630-670 nm which is perfect for hair growth. This frequency of light penetrates a few millimetres into the scalp. It stimulates follicles to stop resting and start growing hair again. That growth stage is called the anagen phase. 
It is non-invasive and absolutely pain-free. It makes use of clinical strength laser technology to acquire the desired result. 
The Benefits of Low Level Laser Therapy
LLLT stimulates the scalp and hair follicles and has been demonstrated to increase blood supply around the hair follicles by over 50% after initial treatment. Research studies have also shown that it has the ability to stop the progression of hair loss in over 80 % of hair loss treatment patients.
Helpful for Hair Transplant Patients
For post-operative hair transplant surgery patients, laser hair therapy has demonstrated the ability to help newly transplanted hair thrive and nurture the healing process.
Helpful for Chemically Damaged Hair
LLLT can be especially helpful for repairing chemically damaged hair since it provides hair and scalp treatment from multiple angles, ensuring proper dosage.
Who Can Opt For A Low Level Laser Therapy (LLLT) at The Hair Loss Clinic?
What To Expect Before The Process?
Here is what you can expect on the day of your process:
What Care Must Be Taken During And After The Process?
There is no extra care that the person has to undertake during the process. The doctor might prescribe certain medicated shampoos and conditioners along with some other hair care products which will help to speed up and stimulate the results of the process even more. 
Dr Balvant Arora believes in taking utmost care of nutrition and supplements that help in increasing and maintaining hair growth. Taking the necessary care to maintain the nutrition and supplements along with Low Level Laser Treatment will certainly help in the long run.
What To Expect At The Consultation?
During the first visit, our Board Certified Plastic Surgeon Dr. Balvant Arora, with expertise in hair restoration, will obtain a detailed medical and surgical history and the history of any hair treatment taken so far. Medical and surgical treatment options will be discussed. If you are the right candidate for LLLT, the process will be explained at length again. 
Consultation is an important factor when it comes to Low Level Laser Therapy (LLLT). Understanding the patient's desire is also very important. At The Hair Loss Clinic, Dr Balvant Arora takes utmost care to cater to the patient's requirement.
How Is Low level Laser Therapy Performed At The Hair Loss Clinic?
At The Hair Loss Clinic, LLLT delivers photons/energy to the scalp. These are absorbed by the weak cells in the scalp which as a result spurts hair growth. This helps in invigorating the blood circulation and stimulation and restores the hair shaft. It also aids in strengthening the hair and improving the elasticity.
LLLT is generally performed in multiple sessions. Each session takes up to 20 to 30 minutes. The process is a long one as the results can be noticeable after a span of 3 to 4 months, and they are permanent in case the necessary steps advised by the doctor are followed
What Is The Science Behind LLLT?
Low level laser light has been used to treat numerous conditions in Europe for over 30 years and has been the subject of over 2,500 scientific papers published worldwide. Side effects of treatment have not been found. LLLT is completely non-invasive, with no physical sensation whatsoever.
Only in recent years has Laser Hair Therapy found wide acceptance among clinical practitioners in the United States and Canada as consumer acceptance has grown. Worldwide, there is an increased awareness and acceptance of low-level laser therapy.
Is Laser Hair Therapy Safe?
Yes. Low level laser hair therapy has been shown to be completely safe for both men and women.
How Does Laser Hair Therapy Work?
Low level laser hair therapy utilized cold laser light of a specific wavelength. The laser light travels in a precise path which concentrates the light in a specific targeted location. This allows it to stimulate the scalp and hair follicles, and improve protein synthesis. It is classified as a Class 3a cosmetic laser.
How Soon Will I See Results?
The appearance of reduction of hair loss usually occurs after six to 10 treatments. Laser hair therapy has also been shown to be particularly effective in men and women when used in combination with an approved multi-therapeutic hair loss control program such as our Trichology Hair Loss Treatment System.
In case you are wondering whether or not LLLT is right for you, we invite you for a consultation at The Hair Loss Clinic where our Board Certified Plastic Surgeon Dr Balvant Arora, with an expertise in Hair Restoration,  will guide you further on this subject.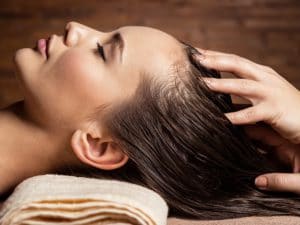 Hair Growth
Keralase Treatment
Hair loss is the most common problem faced by millions of people today. Baldness, hair thinning, damaged hair are some of the major side effects
Read More »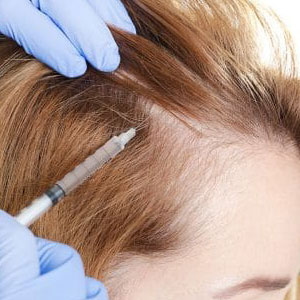 Hair Growth
Microneedling
Microneedling is a hair growth solution at The Hair Loss Clinic which successfully defeats the problem of hair loss without invasive surgery. Dr Balvant Arora
Read More »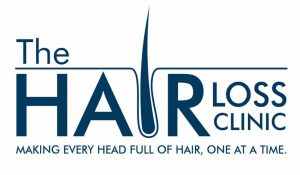 Hair Growth
Cyclical Vitamin Therapy
Cyclical Nutritional Therapy is a new way to look at safe, comprehensive nutritional supplementation which can restore hair growth naturally without any potential side effects
Read More »